Challenge
For the account of the Maritime Authority of the Government of Chile, DIRECTEMAR (Direccion General del Territorio Marítimo y de Marina Mercante) in Chile, South America:
Detect illegal activities at sea using a multi-satellite data sources (e.g. AIS, VMS, radar and optical images)
Monitoring of both fishing vessels and reefers

CLS' Solution
CLS supports the authorities in their fight against IUU fishing activities by providing maritime surveillance services based on the combination and analysis of several data sources (terrestrial AIS, Satellite AIS, Earth Observation).
Results
Successful arrest of several vessels
A strong deterrent to inhibit other illegal activities
Support for operations at sea
Reduce costs by optimal use of limited assets
Effective planning and use of resources
A short story about the world's largest reefer vessel: The "Damanzaihao"
March 2014:
The vessel named the Damanzaihao, formerly known as the Lafayette, (Peru Flag) was operating off the coasts of Chile and Peru.
Authorities noticed irregular manoevres of the vessel while it was approaching the coast of Chile.
Authorities asked CLS to identify and track the vessel using a fusion of data sources including AIS data reports.
The vessel was engaged in illegal transshipping activity.
CLS was able to provide the proof that led to this detection.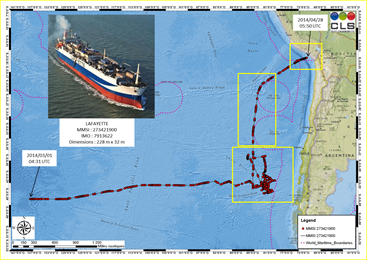 February 2015:
The vessel was reported by the Chilean Government.
This vessel now appears on the list of vessels that are known to have been engaged in illegal, unreported and unregulated (IUU) activity as published by the technical and compliance committee of the South Pacific Regional Fisheries Management Organization (SPRFMO).