The Strait of Hormuz: How do satellites help maritime authorities?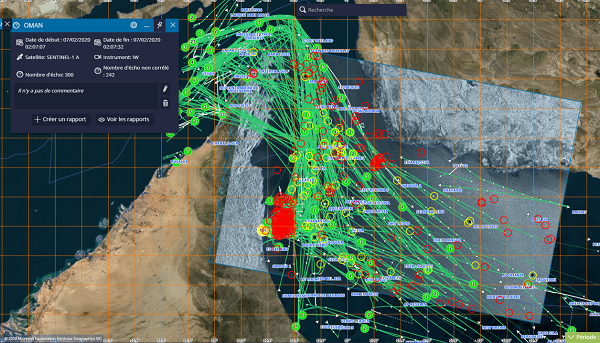 The Persian Gulf, specifically the Strait of Hormuz, the maritime corridor between Iran, the UAE and Oman is one of the world's most politically sensitive areas, and a major global bottleneck for oil shipments. In 2018, on average 21 million barrels of oil per day passed through the Strait, amounting to 21% of global consumption. Due to the strategic nature of this waterway from an economic, political and military perspective, it has since 2010 been the setting for increased international tensions.
From May 2019, the Strait of Hormuz once again made the news headlines as a series of events impacted international commercial shipping and the movement of oil. The International Maritime Organization (IMO) Council condemned these attacks with the IMO Secretary General urging all Member States to step up their efforts to ensure maritime security in the region(1).
What can we see from space?
Case-study: Historical Analysis of the Strait of Hormuz
CLS constantly strives to improve upon its industry leading maritime surveillance technology and service offering, and as such the analyst team closely followed the evolving events in the Strait of Hormuz with great interest. The incidents were analysed and visually reconstructed using CLS's Maritime Awareness System (MAS).
MAS was able to access the six Earth observation satellites available to CLS to monitor the Strait of Hormuz, which in combination with our network of antennae, provides a near-real-time capacity to acquire images over this strategically sensitive area.
The following study visually recreates the events using the various data sources and expertise at our disposal:
Area monitoring
MAS provides an immediate and complete situational picture of an area of interest. The example below shows an overview of AIS data over the Strait of Hormuz and Omani coast, with a satellite radar over-lay. MAS instantly provides key statistics: eg.vessels flag distribution.
The example below shows monitoring of the Traffic Separation Scheme (TSS) in the Strait on 19th July 2019, the day on which an incident occurred involving the Stena Impero, a UK flagged tanker owned by a Swedish company(2).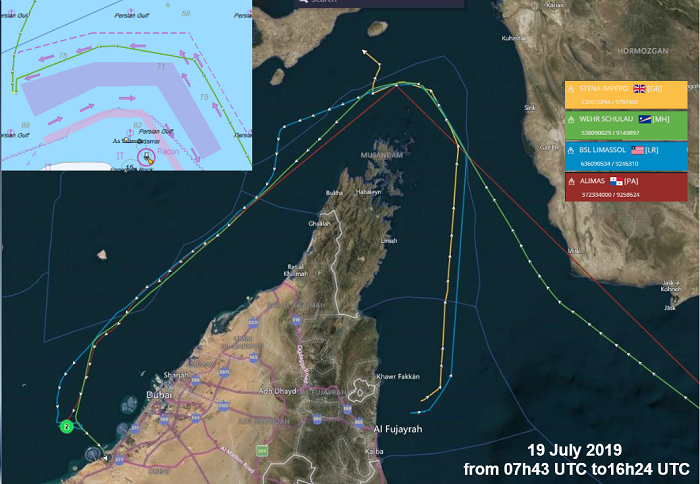 Monitor vessel of interest
When looking in more detail at the Stena Impero case, AIS data enables the vessel voyage to be reconstructed to a high level of precision (yellow track), and clearly shows abnormal behavior as it leaves the TSS with a sudden change of heading (red circle). Other merchant vessels were transiting the same area at the same time, their tracks are displayed in green, blue and red.  The Stena Impero's sudden change of heading shows a potential attempt to escape Iran's Revolutionary Guards.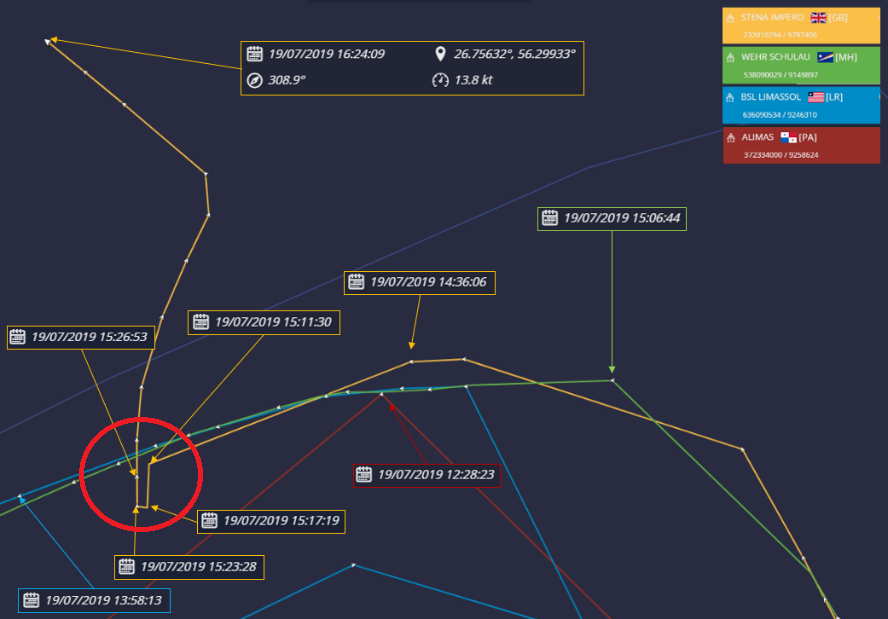 According to the Stena Impero owners, the tanker "was approached by unidentified small crafts and a helicopter during transit of the Strait of Hormuz while the vessel was in international waters"(3).
Satellite imagery analysis
The Stena Impero briefly turns on its AIS on 21st July 2019 for 40 minutes, confirming its location at Bandar Abbas. CLS analysed a Copernicus Sentinel 2 optical image taken on 23 July 2019 over the area. The Stena Impero, at anchorage off Bandar Abbas can be clearly identified.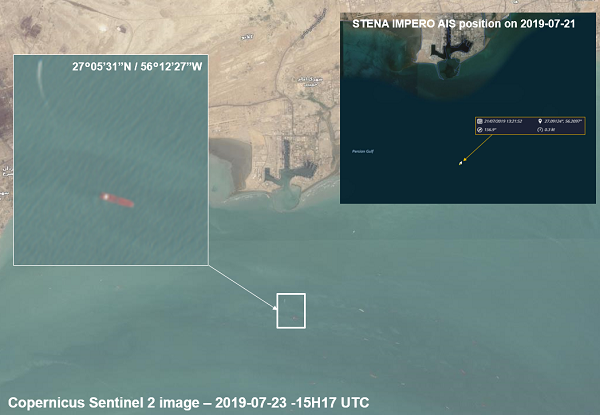 The Stena Impero was released at the end of September 2019, after being detained for two months in Iran.
On 13th June 2019, the Front Altair and Kokuka Courageous vessels were reportedly "attacked" in this strategic area even though the US Fifth Fleet was in the vicinity. The crew of the Front Altair were collected by Iran forces and taken to the port of Jask. Initial reports suggested a torpedo attack was responsible for the vessel damage.
A Sentinel 2 optical image from 13 June 2019 shows the Front Altair after being attacked, a dark plume of smoke can be seen coming from the vessel. A potential oil spill resulting from this attack is also identified on the satellite image.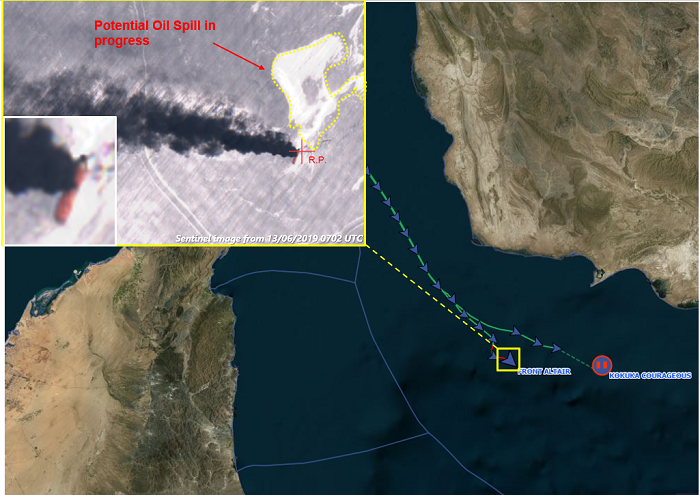 Earth observation data is a powerful resource and asset in conducting more in-depth area analysis. Sentinel 2 optical images detected a large number of Iranian boats in the Strait of Hormuz, these vessels were not equipped with AIS transponders, and therefore would not have been visible using basic vessel tracking systems.
The image below shows the surface situation on 8th July 2019, with a large number of smaller craft (pictured in red), two days before the UK flagged tanker, British Heritage was approached by Iranian boats on 10 July 2019(4).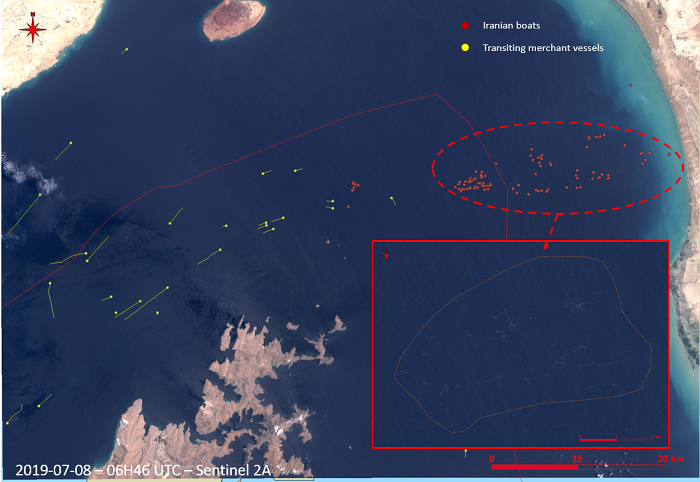 Satellites are key to monitoring activities in global hot spots
Satellites are a unique and powerful tool to observe, measure and monitor activities without deploying assets on site. With a wide range of sensors available, offering different levels of coverage and resolution, satellites provide unrivalled, continuous and near-real-time capabilities.
CLS uses satellite data to develop applications for our clients' operational needs. With 30 years of close collaboration with maritime authorities and international law enforcement agencies, CLS is a trusted partner for maritime surveillance services. One of the keys to our success is our ability to acquire and fuse data from multiple sources (different type of satellites, open-source data, UAVs, etc.) producing accurate and actionable intelligence. With a 365 days a year, 24 hours a day service availability, CLS' capacity and expertise ensure we are a valued partner in supporting critical operations at sea.
CLS's Maritime Awareness System: a state-of-the-art solution for intelligence and operations
The CLS Maritime Awareness System (MAS) is unique in combining the very latest technologies (big data, machine learning and AI) to provide accurate, reliable and trusted behavioral analysis and intelligence. Thanks to its unique and proven algorithms, MAS delivers a truly groundbreaking capability.
References:
(1) https://safety4sea.com/imo-condemns-tanker-attacks-in-strait-of-hormuz/
(2) https://www.theguardian.com/world/2019/jul/19/british-tanker-iran-capture-fears-stena-impero-uk-ship-latest
(3) https://www.theguardian.com/world/2019/jul/19/british-tanker-iran-capture-fears-stena-impero-uk-ship-latest
(4) https://www.bbc.com/news/uk-48946051