From volcanic ash to oil pollution to sargassum to icebergs: a sharp view from space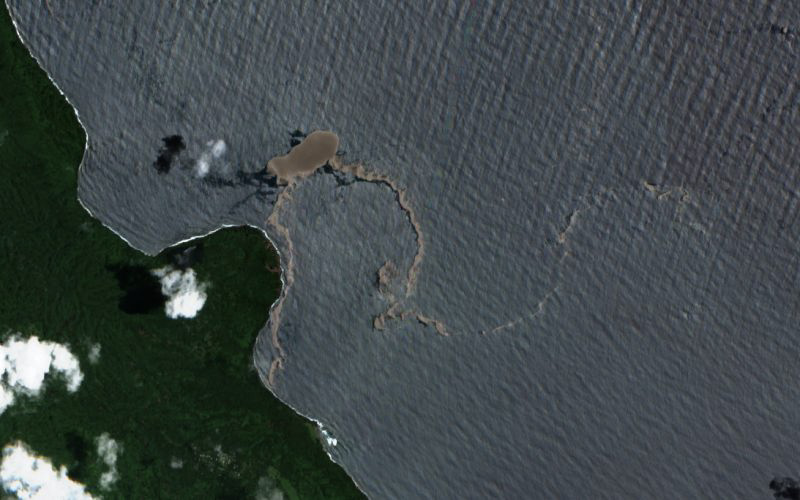 The submarine volcano East of Epi Island (Vanuatu) erupted on January 31st. On February 2nd, strange objects were observed floating close to the eruption site on both Landsat and Sentinel-2 images. Might this be ash packs drifting?
To answer this question, satellite imagery expertise is key; and not only to observe volcanic eruptions
You can rely on CLS' eagle-eyed experts for analysis of satellite imagery for all this kind of issues at sea. Icebergs or sargassum are also detected and monitored from space.
Regardless of weather conditions, our 24/7 detection services support the safety of maritime voyages.
Icebergs, sargassum, a common threat for maritime safety: A risk tan can be largely minimized thanks to satellite imagery
There is not a major round-the-world race that does not worry about icebergs threatening navigation. Transatlantic races also have their share of sargassum, which is detrimental to navigation and threatens the safety of competitors.
CLS' icebergs and sargassum detection and monitoring system is a cutting-edge combination of drift modelling, SAR imagery and altimeter data.
The satellite images and the expertise we have acquired in interpreting them allow us to visualize the ice or mats' location and provide a precise indication of their drift, so that race directions and then skippers can avoid this danger by adapting their route.
Pollution at sea: CLS proposes an integrated oil spill contingency service
CLS assists international authorities (customs, coast guard, navies and international maritime security agencies) in their surveillance missions to protect the maritime domain by providing a clear maritime surface picture.
In the event of pollution at sea, CLS can help access and understand mission-relevant information, enabling time-critical decisions to be made with an unquestionable level of security and confidence. Each year, more than 2,000 images are analyzed by CLS's experts.
We help detect and quantify the extent of the slick, and support and facilitate the missions of crisis units for situation recovery.
The data provided by our satellite imagery experts could be used in court to help identify polluters.
CLS's arsenal ranges from a vast network of satellites to advanced solutions, combined with data expertise, plus a mastery of artificial intelligence, for a complete, real-time maritime picture.