United Nations International Day for the Fight Against Illegal, Unreported and Unregulated Fishing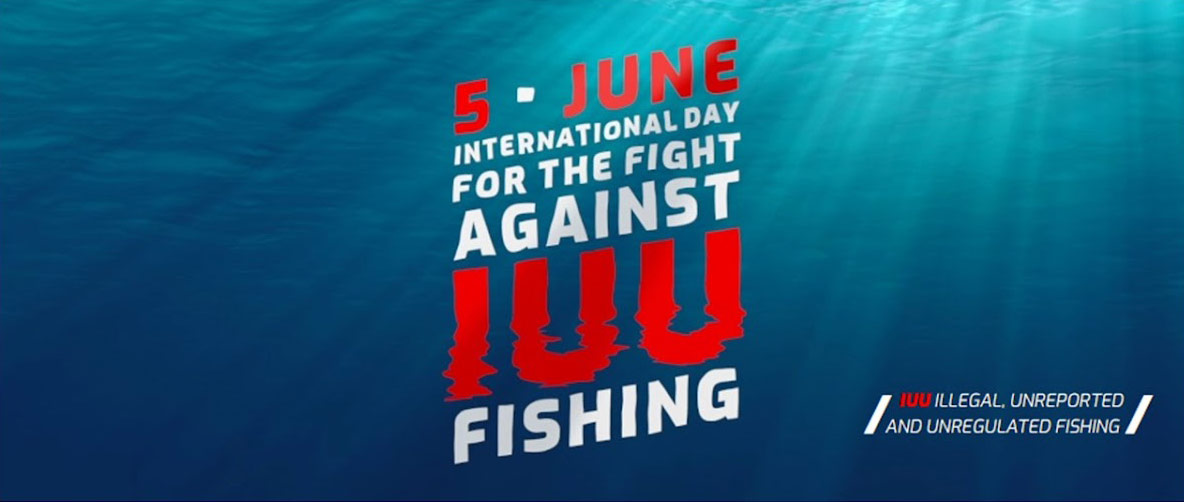 Illegal, unreported and unregulated fishing (IUU) is a global threat to our oceans.
CLS has, for many years, been committed to fighting this environmental, human, economic and ecological plague.
Space for Monitoring Maritime Areas
To combat IUU and to help authorities in their daily missions, CLS has created 'MAS', for Maritime Awareness System.
Based on big data and behavioral analysis, MAS enhances maritime surveillance and gives actionable intelligence to help fight any illegal activities, including IUU.
Our analysis informs the authorities about vessel behavior as part of a wider risk assessment process used to monitor IUU fishing zones and prioritize enforcement resources.
Intelligent Data Fusion for a Perfect Understanding of Ship Identity and Activity
By combining satellite imagery, ship identification data (satellite and terrestrial AIS), satellite RF detection, commercial ship databases and new information technologies (Machine Learning and Artificial Intelligence), CLS provides a unique system, offering full coverage and surveillance of maritime areas: real-time analysis, historical surveillance on an area or fleets of interest and the raising of alerts upon events or specific behavior.
Case Study 1: Analysis of Fishing Patterns in the Clipperton Atoll with MAS
Clipperton Island, or Passion Island, is a French possession in the north-east Pacific Ocean. Uninhabited since 1945, the atoll is the most isolated in the world. With its EEZ, Clipperton is home to significant fishery resources, which have been decimated by illegal fishing.

Several tens of thousands of tons of Pacific yellowfin tuna are fished by American and Asian fleets in this EEZ (435,000 km²), which lies at the heart of one of the world's richest tunas in the world.
Fishing agreements were signed in March 2007 between France and Mexico for a renewable 10-year period. These agreements provide that any Mexican fishing vessel be granted authorization to fish in Clipperton's marine areas, without having to pay any license fee.
Thanks to MAS, we analyzed fishing behaviors of two Mexican vessels in the zone.
With existing fishing agreement: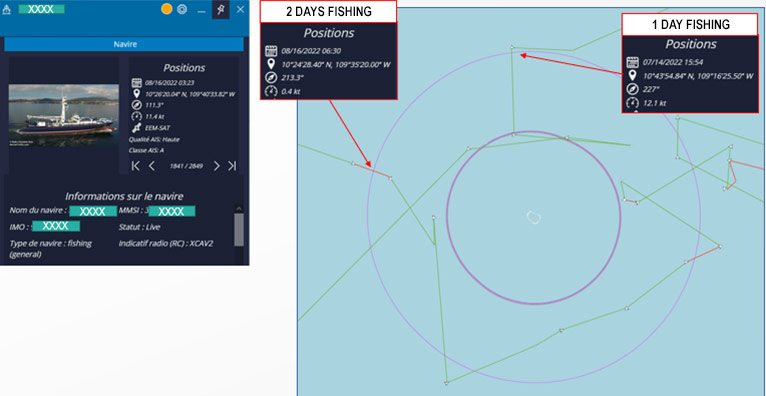 Without existing fishing agreement: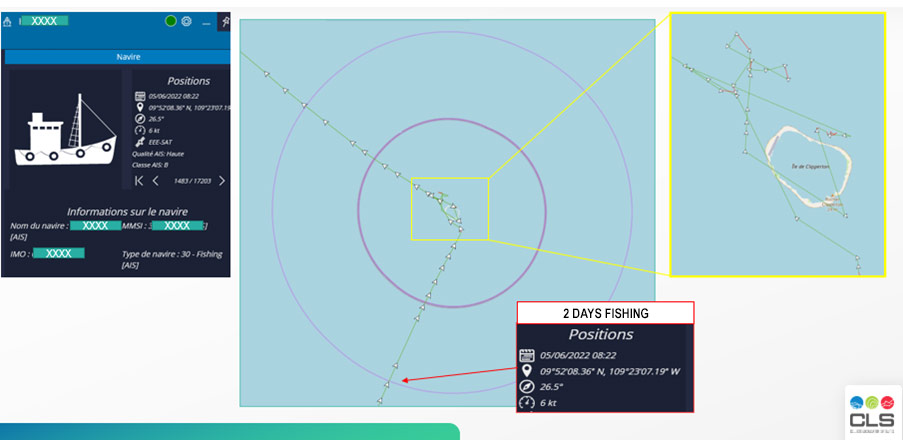 Case Study 2: Analysis of Fishing Patterns in the Gulf of Lion with MAS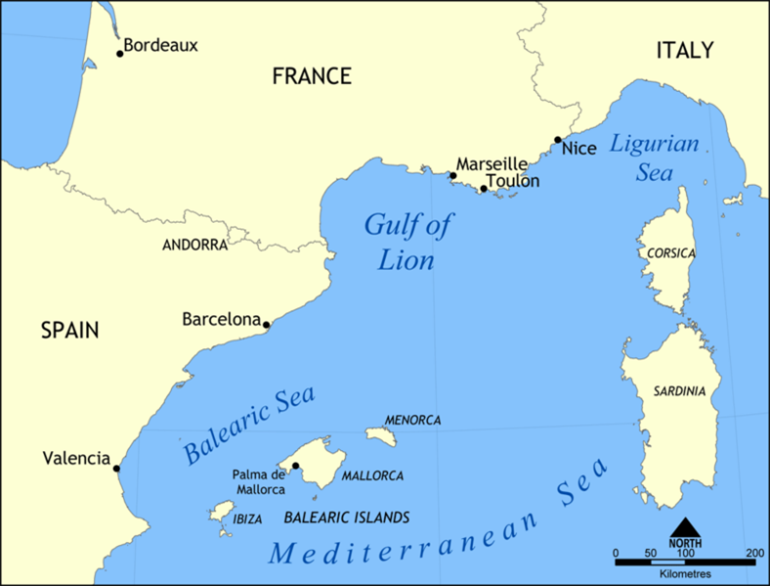 Gulf of Lion, French Golfe du Lion, is a gulf in the Mediterranean Sea, stretching along the coast of southern France, from the Spanish border (west) to Toulon (east).
It is a regulated fishing zone with a large area covered by the Regional Nature Park with strict measures to protect fish stocks and habitats.
The protection of the resource applies to an area of 45 km2, one of the three zones in the Gulf of Lion where a total ban on fishing has been in place for several years in France.
During the period from late December 2022 to mid-January 2023, 6 Spanish fishing vessels sailed close to the French EEZ.
Of these 6 vessels, 2 probably carried out fishing activities within the French EEZ: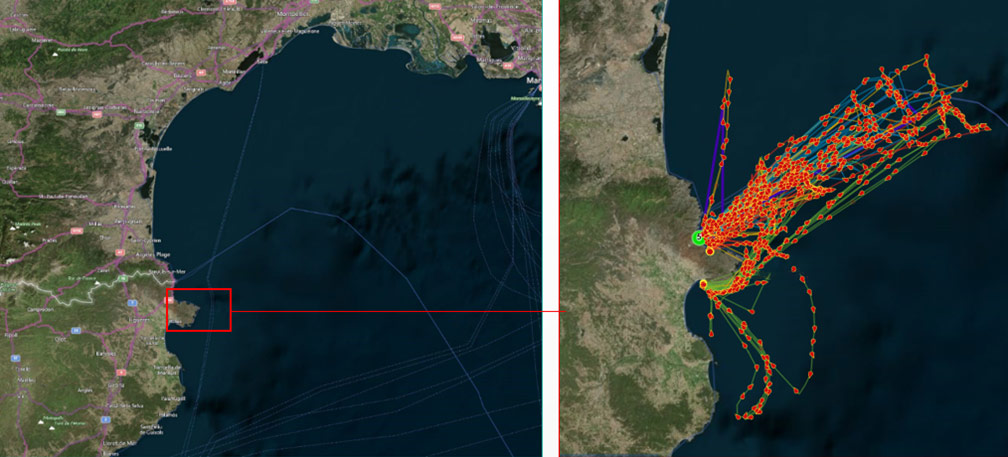 Within the EEZ, the kinematics of one of the vessels making round trips at a speed of 02 Kts probably corresponds to a fishing action.
MAS, CLS's multi-source system exploiting and processing Big Data, is a complete and real-time picture allowing authorities to focus on areas that need special attention in terms of maritime surveillance.
We monitor these areas from space, combining data from 300 satellites to detect dark vessels, which are suspected of fueling the IUU illicit trade that costs millions of dollars and undermines local economies.
These dark vessels do not activate their monitoring system to get unnoticed. They are identified thanks to MAS, located, and can be seen by authorities wherever they are.
With MAS, get the real-time insights needed to combat illegal fishing, everywhere.
MAS: actionable intelligence for maritime domain awareness.
The authorities need access to ship identification, authorization, licensing, and tracking data. CLS has played a major role for over 30 years in supplying many maritime nations with VMS systems, control centers or ERS.