Oil Spill Pollutes Philippine's Waters and Coastline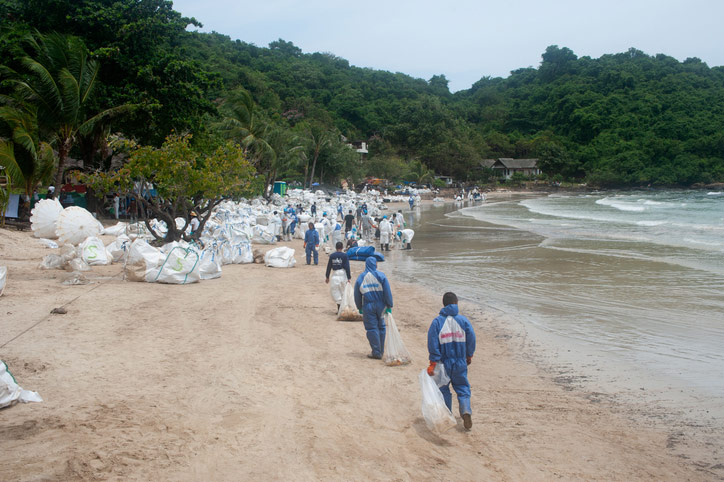 The MV Princess Empress, carrying 800,000 liters of industrial fuel oil, sank on February 28th off the coasts of Oriental Mindoro Island, southwest of Manila (Philippines), spilling its cargo of fuel oil into territorial waters.
Authorities declared a state of emergency for nine cities; swimming and fishing were banned. This is one of the worst environmental disasters the region has ever seen.
Satellite Images Expertise: What Can Be Seen From Space?
Pristine beaches and diving spots of the island province of Philippine are coated, sickening dozens of residents and threatening the tourist industry and biodiversity.
Oil spills at sea always mean long-term damage to humans, the environment and marine biodiversity.
Operating 24 hours a day, 7 days a week, the satellite data we use and analyze help alleviate the effects of disasters on human life and property.
Involuntary or Deliberate Oil Pollutions at Sea Occur Too Often, Reminding Us That the Ocean is a Fragile Territory to Be Protected
It is from space, thanks to nearly 400 satellites, that we help detect and quantify the extent of the oil slicks worldwide, and support and facilitate the missions of crisis units.
The alert in case of massive involuntary pollution is often immediate because the problem is very visible and impactful, as opposed to the insidious pollutions of opportunity which are a common problem along maritime routes.
Illegal discharges cause insidious and regular pollution, quantitatively more important than oil spills, but much less visible: 1 million tons of oil are spilled each year, six times more than oil disasters.
Like oil spills, illegal oil discharges demand a prompt response to avoid massive pollution and mitigate the severe impacts on marine ecosystems.
Here also, CLS can help.
Each year, more than 20,000 images are analyzed by CLS' experts. And, ultimately, data provided by our satellite imagery experts can be used in court to help identify polluters.
Fighting Pollution at Sea: a Reliable Solution to Detect and Monitor Oil Pollution
We detect and identify oil slicks, calculate their drifts and potential polluters for immediate response, monitoring and support contingencies.
CLS can thus help to access and deliver actionable information enabling time critical decision-making with an uncompromising level of safety and trust.
Relying on main radar satellite constellations CLS delivers in-depth analysis based on SAR imagery, empowering decision makers with actionable insights to conduct operational response.
What Are the Results?
In 10 years, the number of oil spills in European waters has been reduced by half thanks to the European cooperation of the Cleanseanet service set up by EMSA (European Maritime Safety Agency) and provided by CLS.
With more than 30 years of experience in satellite data expertise, CLS has staffed VIGISAT with a team of specialists internationally renowned for their expertise in processing, analysing and interpreting satellite radar images. CLS can thus offer advanced and tested solutions for detecting oil spills, in any oceans, worldwide.
The VIGISAT ground station is a key tool for detecting pollution. Radar imaging satellites transmit radar data to VIGISAT from space in real time. These images can be acquired by day or by night in all weathers and analyzed to detect ships and traces of pollution. The authorities can then be informed in real time.