Nadia Maaref: "My unwavering goal? To lead my team towards excellence in maritime surveillance"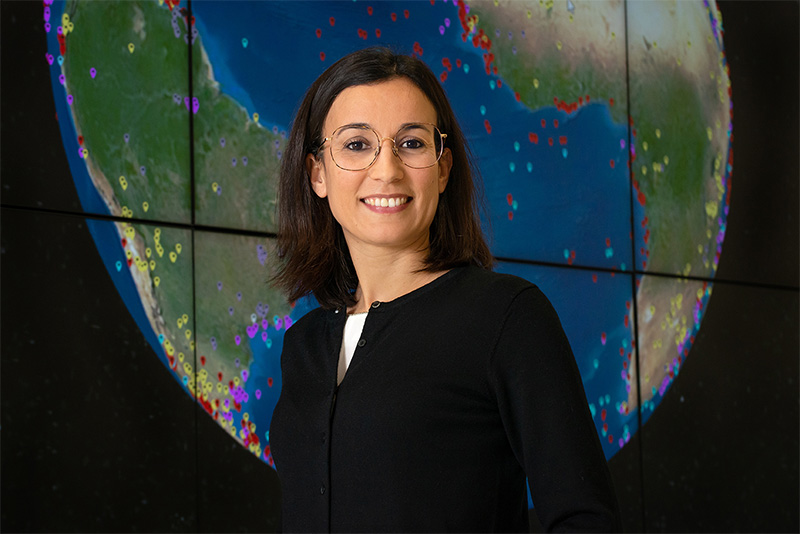 Nadia Maaref has a smile, a look and a bearing that inspire everyone she meets. Behind the calm and composed exterior, there's a sense of innate determination and strength of character. Beneath the elegance lies fire…
Carried by her relentlessly innovative spirit, Nadia has followed a clearcut path to the Directorate of Maritime Surveillance at CLS – a role to which she is passionately dedicated. Appointed in 2018, she heads a 40-strong team of employees spread across several CLS sites, at the company's headquarters in Toulouse and in the well-known maritime city of Brest.
Brest is the site of CLS' very first VIGISAT station, for the reception of high-resolution satellite imagery. Operating from space and in near real time, VIGISAT is our ocean watchdog, detecting everything from offshore pollution to illegal fishing.
Did you say radar?
After an engineering degree at Télécom SudParis, Nadia specialized with a Master's in high frequency telecommunications systems before heading south to Toulouse for a PhD in radar systems. Nadia's path was indeed clearcut, for she was already drawn to radar.
As a researcher in the electromagnetics and radar department of ONERA (France's national aerospace research lab), Nadia pursued this area yet further with her studies into radar signal processing in urban areas.
Full speed ahead
After joining CLS in 2014, Nadia travelled the world for three years, marketing radar satellite data for France, Europe and Latin America to public authorities, space agencies and industry.
It was undoubtedly then that the idea arose for an incredible tool that would leverage space data for maritime intelligence and support authorities in their operations. The Maritime Awareness System (MAS) is now used by leading maritime nations such as France, whose territorial waters—among the most extensive in the world—are monitored via a network of over 300 satellites.
Continuing on that same trajectory, Nadia became sales and business development manager for maritime surveillance at the beginning of 2017. She then went on to become its head of marketing and sales before being appointed Director in October 2018, heading a team dedicated to the maritime surveillance of every ocean around the world.
Many ideas, one objective: making our oceans safer
Surveillance means real time. And, where necessary, complementarity to secure a global vision of events at sea. It's a vital tool so, whenever an element is missing, we add it. That's where our drones come in, complementing satellite data for surveillance, anti-pollution or fisheries management operations.
Nadia explains:
"Since 2017, CLS has been using Tekever drones for operations commissioned by numerous European stakeholders responsible for maritime surveillance. At CLS, we now have four drones of our own that we make available to authorities.  
"Via the REACT consortium, set up with Tekever, we have been working with EMSA to develop the first ever drone surveillance system for European maritime space, to monitor illegal trafficking, immigration and fishing. To date, we have completed over 1,200 flight hours and 250 operations in Spain, Portugal, Italy and France."
Nadia is multilingual, being fluent in French, English, Spanish and Arabic. Contact her to hear some of her fascinating stories about maritime surveillance.